AFFORDABLE

PRICES

FRIENDLY

& TIDY

WORK

GUARANTEED

LATEST

TECHNOLOGY

​​DO YOU HAVE A WOODEN FLOOR IN YOUR NORTH LONDON HOME OR BUSINESS THAT LOOKS AS IF IT HAS SEEN BETTER DAYS?
Is all the natural beauty of your timber flooring hidden under the dust of ages? A clean, sanded and varnished wooden floor can completely transform a property, so get in touch with the N17 North London wood flooring experts to release this hidden asset.​
At the N8 North London Floor Repairing team we have decades of expertise in restoring wood flooring and coaxing it back to vibrant life. We provide a friendly professional service to domestic and commercial properties across North London that is affordable and thoroughly reliable. Our equipment is up-to-date and dust-free to minimise the mess. Our stains, varnishes and seals are environmentally friendly and toxin-free and will bring the most jaded floor back to life. Disruption is kept to the absolute minimum to allow you to get on with your family life or business almost immediately.
OUR COMMITMENT
Don't just take our word for all of this. We are always striving to improve our products and services, and the N10 North London Floor Resurface company is a member of prestigious professional bodies including:

·    The Federation of Small Businesses

·    The Guild of Master Craftsmen

·    A Junckers approved maintenance contractor

·    The National Wood Flooring Association
In addition, we carry £5 million of insurance, so you're in safe hands with us. Take a quick look at what some of our many satisfied customers are saying on our Testimonials page.
WE DO ALL TYPES OF JOBS
The size of the particular job doesn't matter to us because we bring the same level of commitment and professionalism to the work whether we're renovating a ballroom floor or giving your hallway a quick sand and polish. Our team of sanding experts in North London are here to help you whatever project you have in mind and advice is just a phone call or email away.
Find out more about our floor services in North London by contacting us or simply by browsing around the site to get a better idea of what we do.
For Gorgeous Wooden Floors Call 020 3151 7903 Now
BEFORE & AFTER
Latest News, Recommended Articles & Tips
Interior design tips for homes with wooden floors

Wooden floors can help to give a home a really distinctive style - so make sure that you're making the most of yours with our top tips for styling a home with wooden floors.
Utilise fabulous area rugs
If you have one type of flooring throughout, you may feel like you're missing the opportunity to give each room a different feel when it comes to decorating. Not so! By using large area rugs to break up the wooden floor, you can completely change the vibe of a room. A minimalist rug in block colours will help a room to feel modern with clean lines, while sheepskin rugs will add cosiness and oriental rugs a more exotic, eclectic feel.
They can also help to protect your floor - runners and rugs in areas with high foot-traffic could help to reduce wear and tear.
Mix and match your woods
A beautiful wood floor will offset almost any furniture, but be smart about the types of wood that you invest in - it could change the whole feel of the house. Choose to match the floor closely for a classy, elegant look, or opt for lighter unfinished woods to provide a contrast.
For a stylishly eccentric interior, source furniture second hand and choose a variety of different woods and finishes, tied together with soft furnishings and other accent pieces.
Inject plenty of colour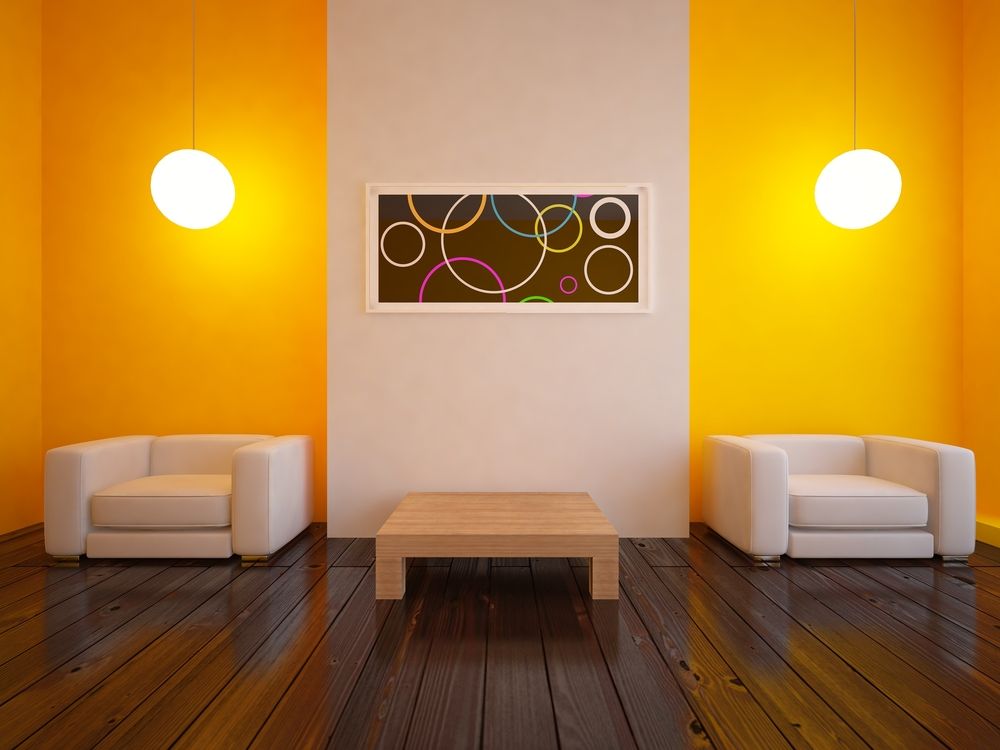 Without a variety of colour on your floor, you may want to make sure you're brightening up your home in other ways. Quirky ornaments,
colourful artworks and interesting soft furnishings can provide a welcome counterpoint to the wood tones.
Trend-setters might consider investing in beautiful parquet flooring, which can be more variegated to begin with and to which you can inject even more colour by painting a few random pieces in bright or pastel shades.
If you are the proud owner of a wood floor that's a bit the worse for wear, take a look at the floor sanding and restoration services that we offer. Quick, clean and efficient, we'll have your floor looking its best in no time.
Floor Sanding North London